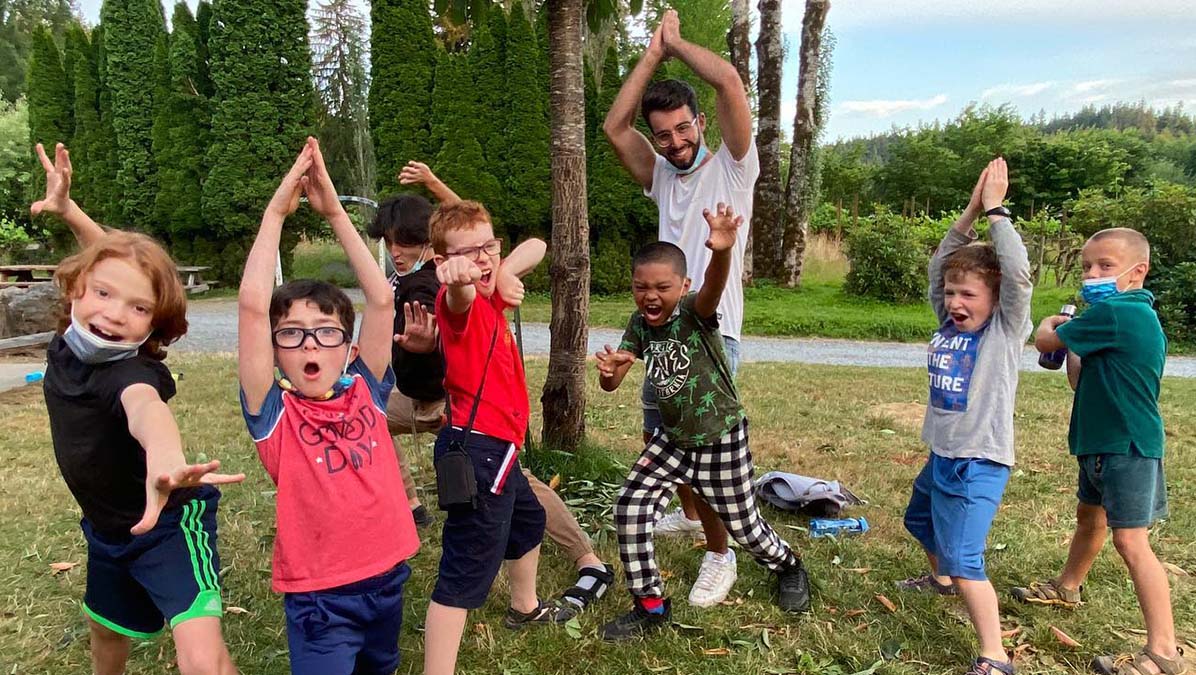 $1 Million in New Grants for Youth Programs
Twenty one organizations serving Jewish youth throughout Washington State have been selected to receive funds to significantly expand their reach and programming thanks to more than $1 million in new grants from the Samis Foundation.
The Samis Foundation Youth Enrichment and Engagement Grant program recognizes the exciting work being done to connect Jewish youth with their religion, culture, community, identity, and to each other. With this infusion of funds, grantees can deliver programs that resonate with K-12 kids and their families, helping to fulfill the Samis vision of supporting a thriving Jewish community.
A strategic goal of the Samis Foundation is to increase accessibility and participation in high-quality experiential Jewish education. To that end, grantees will be using funds for experiences like Shabbatons and retreats, Jewish community involvement, scouting and youth groups, immersive cultural studies, and learning about and traveling to Israel. Grants are also being provided to enhance professional development for Jewish educators in Washington State.
Grants Support Key Samis Foundation Strategic Objective
"As we worked on the new strategic plan we announced last year, we studied demographic information about the Jewish population in the Washington State. Trends indicate that only a small percentage of Jewish kids are attending day schools, and participation in Sunday school often drops off after seventh grade Bar and Bat Mitzvahs. But Jewish kids and their families are actively looking for ways to connect with their identity, culture, and community. We knew the Samis Foundation could help expand access to intensive, immersive Jewish education that engages more kids and keeps them involved all the way from kindergarten through high school," said Jerome Cohen, Samis Board member and Chair of the Experiential Education Sub-Committee.
Experiential Jewish education programs are those that go beyond classroom teaching to engage youth in the community while helping them build lifelong connections with Jewish friends and traditions. These programs include hands-on learning, site visits in the Jewish community and youth enrichment activities. With these grants, Samis is helping launch innovative new programs while also expanding access to successful ongoing initiatives.
Grants Designed for Maximum Impact
"Before sending out a request for proposals, the Samis Foundation conducted a handful of pilot programs with Seattle area Jewish youth groups over the last five or six years. We hired Rosov Consulting, the premiere firm involved in assessing the impact of educational programs for Jewish youth. They surveyed teens who participated in the pilot programs and their parents to help us make sure our grants would have the most impact. We also traveled throughout Washington State to meet with rabbis and Jewish community groups, asking how we could best support intensive, immersive education for youth throughout their school years," said Connie Kanter, Chief Executive Officer of the Samis Foundation.
Grantees can now reach more kids and families, giving them a chance to learn about what it means to be Jewish – to find meaning in their heritage, traditions, holidays, and religious practice. The intensive, immersive programs supported by the Samis Foundation are meant to light the spark of commitment and engagement that excites youth about being Jewish and builds a love of their community and of Israel.
Support for Youth of All Ages Throughout the State
"With these grants, the Samis Foundation is reaching beyond traditional youth programming to engage many more Jewish kids. We're excited to provide funding throughout the state that supports kids and families all the way from kindergarten through high school. Organizations are incubating innovative ideas and partnerships so they can bring impactful programming to youth hungry for connection to their Jewish identities," said Ariel Lapson, Program Officer for Experiential Education at the Samis Foundation.
Grantees are listed below and include synagogues, youth groups, and other organizations in the Seattle area, Bellingham, Everett, Olympia, Spokane, and Vancouver, Washington. The Samis Foundation is providing three years of support, with the first year's grants being distributed to groups in July 2022.
Full List of Grantees and Program Descriptions
BBYO: Professional support for new North End Halom BBG Chapter
Temple Beth Hatfiloh: Monthly family Shabbatons
Congregation Beth Israel: Moving Traditions experiential education programs for bar/bat mitzvah students
Congregation Beth Israel/Temple Beth Or: Israel education and trip to Israel
Congregation Beth Shalom: Family camp celebrating Jewish life, learning and community
Congregation Beth Shalom: Social justice-focused teen trips
Temple Beth Shalom/Congregation Emanu-el – Spokane: Family-focused immersive Shabbat retreats
CTeens Bellevue: Teen traveling camp across the West Coast
Temple De Hirsch Sinai: Jewish community excursions for middle schoolers to learn about Israel, arts, history, food, science, social justice, and the Jewish life cycle
Herzl-Ner Tamid Conservative Congregation: Middle school leadership retreat led by high schoolers
Holocaust Center for Humanity: Student Leadership Board retreat
Israeli American Council Eitanim: Entrepreneurial, project-based learning bringing together Jewish-American and Israeli American middle schoolers
Shevet Matar, Friends of Israel Scouts: Teen educational specialist to develop future counselors
Chabad of the Central Cascades-Issaquah: Holiday programming for K-7th grade C-Kids clubs
Chabad of the Central Cascades-Issaquah: Teen programming including social gatherings and volunteer opportunities
Congregation Kol Ami: Artist-in-Residence and URJ Religious Action Center trip for teens
Mercaz Bnei Akiva: Teen onegs, leadership training and Shabbatons, and monthly Shabbat sniff for K-6th graders
West Coast NCSY: NCSY chapter and JSU clubs, Shabbatons, and latte-and-learning programs
Sephardic Religious School: Jewish studies, Hebrew reading, and Sephardic laws and customs for K-8 students
Stroum Jewish Community Center: Connecting middle schoolers to the Jewish community through site visits and experiential learning
United Synagogue of Conservative Judaism: J-Squad middle school club coordinator
Congregation Beth Shalom: Professional development for Education Director
Herzl-Ner Tamid Conservative Congregation: Professional development for Jewish Education Directors' Institute (JEDI) serving synagogue-based education directors across the state
M2 – The Institute for Experiential Jewish Education: Experiential education training for youth educators
StandWithUs: IsraelLINK education mentor for middle school teachers